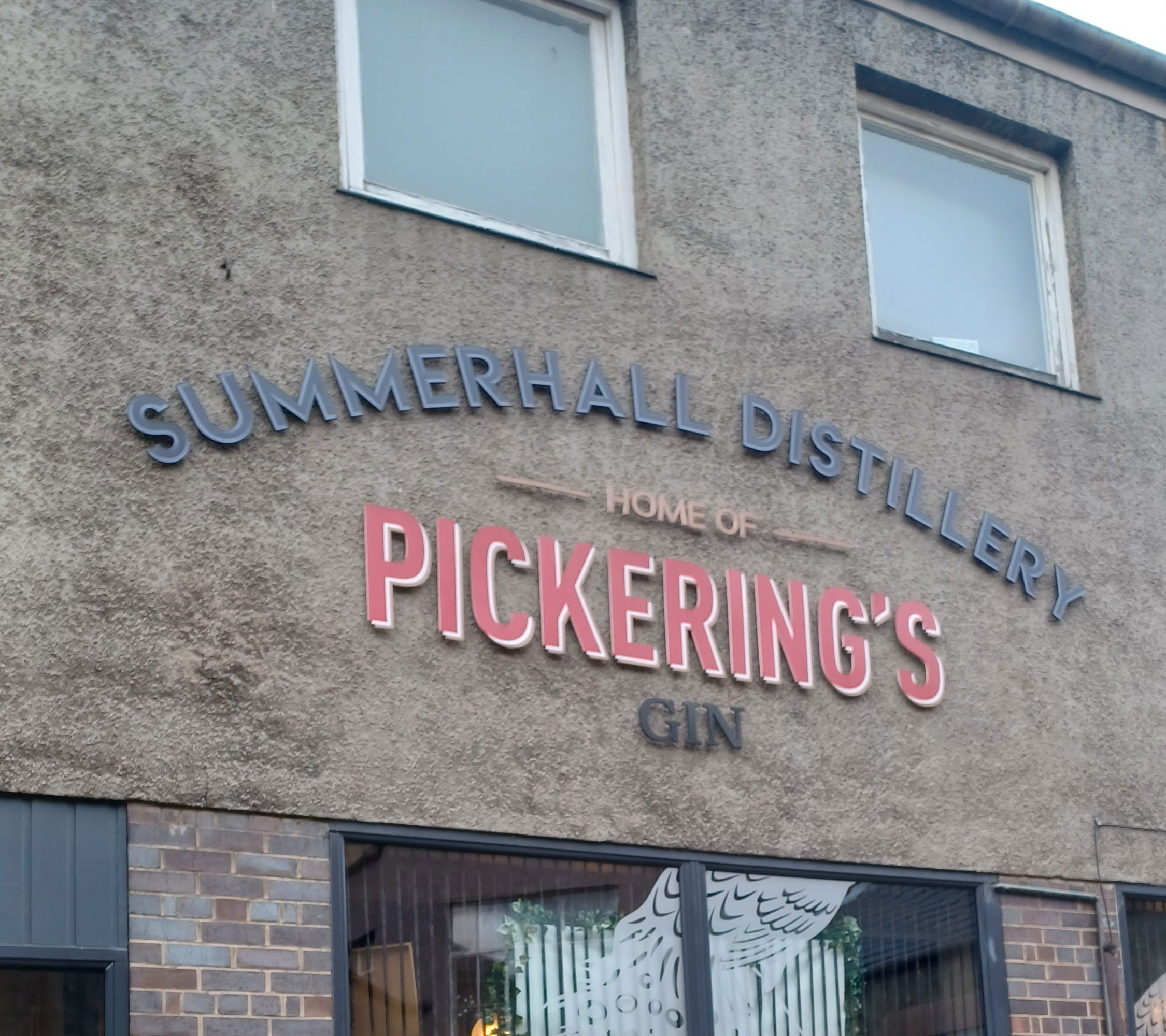 It seems that even Covid, while leaving countless industries in dire straits, couldn't dampen the nation's love of gin. When everything else seemed to be going down the drain during lockdown, we could either watch the news and cry, or have a nice, refreshing gin and tonic and forget the woes of the world for a while.
There has been, as one national newspaper coined it, a Ginaissance - something like the Renaissance, but with more juniper berries and fewer Michelangelos. And who could blame us for indulging a little to explore the wonderful world of gin in the absence of any other fun?
The rise of craft gin has been one of the bright spots in otherwise bleak times. The pandemic saw an increase by 110 distilleries since 2020, to a total of 820 in the UK. The vast majority of these distilleries employ fewer than 10 employees, producing small batch, craft gins.
Contrary to expectations during the pandemic, alcohol markets overall thrived, suggesting perhaps that we had little else to do other than sit at home sozzled until real life resumed, or we just had more time on our hands to explore new beverages without the worry of having to drive to work the next day nursing a hangover. Gin, however, was regarded in the industry as being most at risk, particularly as it is the 'new kid on the block,' predominantly in New York markets. Instead, the taste for gin, particularly craft gin, has increased, year on year with companies such as the Craft Gin Club delighting recipients with its mystery boxes which comes with tasty treats, mixers and recipes in its magazine without having to leave the doorstep.
Covid, though still with us, has receded somewhat, and we are embracing the opportunities to get out and about again to seek new and interesting experiences. There are craft gin companies all over the country, ready to entice with gin tasting and distillery tours, and Scotland is no exception to the trend. What better than to spend an afternoon with giant copper stills and a few merry tourists? It's like Disneyland but with more alcohol and fewer crying children.
As a Valentine's gift for my gin-soaked — sorry — gin afficionado partner, the purchase of tickets for a visit to Pickering's Gin Distillery in Edinburgh seemed like the perfect choice for a weekend afternoon. Opting for the Gourmet Masterclass Cocktail and Cheese Experience, we arrived at Pickering's Distillery at Summerhall, Edinburgh. Summerhall has a long history of brewing and alcohol production which began in 1710 with Robert McLellan. The Summerhall site was to become the University of Edinburgh's Veterinary College when the ornately beautiful and imposing building that stands there now, was purpose built between 1913 and 1925, operating as the 'Royal Dick School of Veterinary Studies, after its founder, William Dick. The college became affectionately known as the 'Dick Vet'.
We are met at the reception area by Marina Capaldi, Head of Visitor Experience Team, a lass with an ostensibly Scottish accent which is often broken by another accent, which she reveals is French. Once the whole group is assembled Marina, who proves to be a charming, entertaining and informative host for the afternoon, leads everyone through the back door to the courtyard where she tells us that the Veterinary School vacated the site in 2011. This left the site to a very uncertain future, but was saved by its conversion into a creative arts hub and its return to housing a micro-brewery, Barney's Beers and the Summerhall Distillery, producing Pickering's Gin.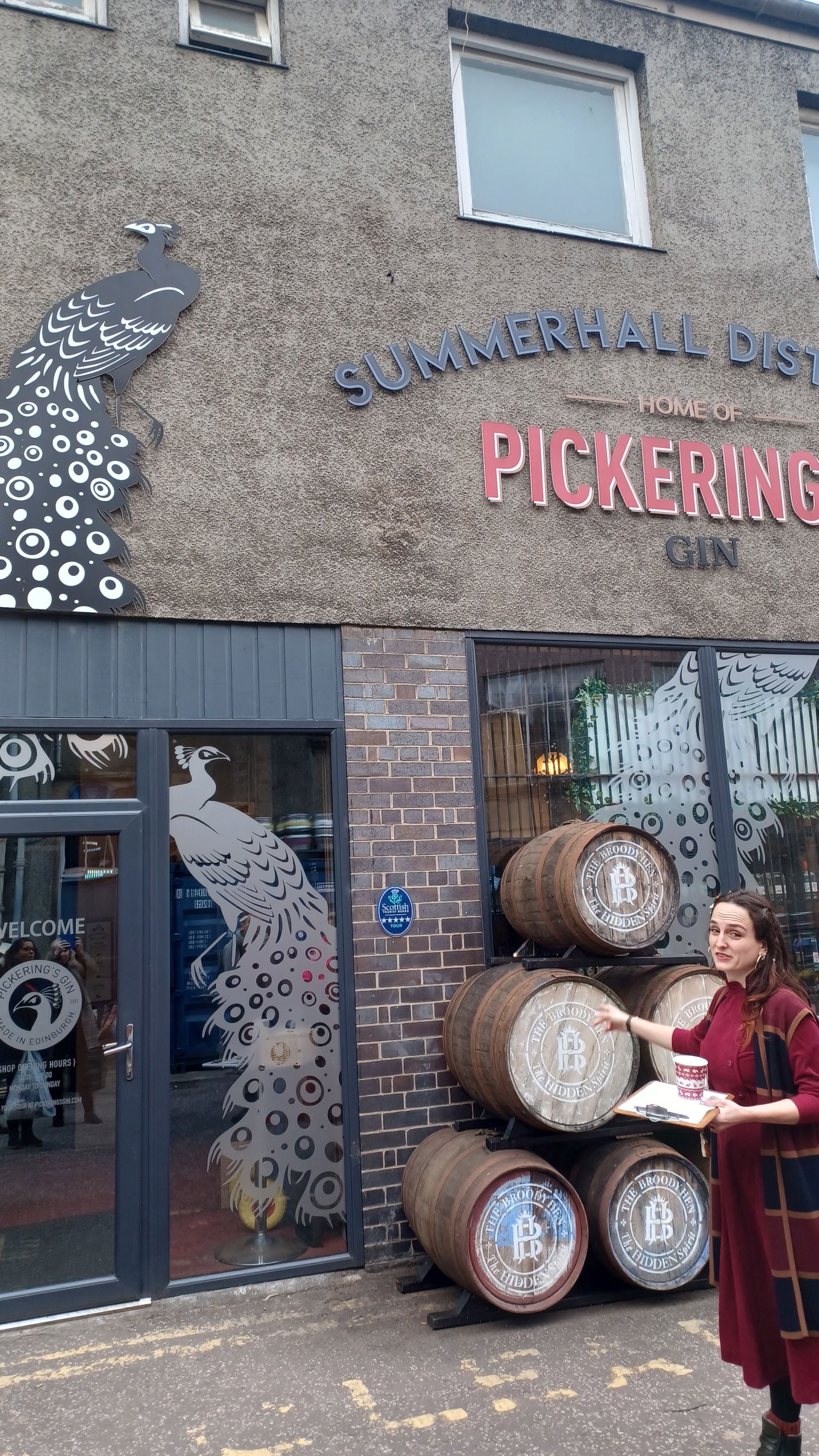 Marina Capaldi, Head of Visitor Experience Team and Host for the Gourmet Masterclass Cocktail and Cheese Experience
Marina introduces the group to another on-site attraction, 'The Dick Bar' and pauses to allow the inevitable innuendo and stifled giggles, worthy of a Carry-On film, to pass. Once that's out of the system, it is onward to the distillery itself, where another group of visitors are merrily surrounding a table with shot glasses enjoying the offerings. They seem fairly rambunctious, signalling a promising start to our tour.
Marina leads the way into the old kennels, still containing eight of the original twenty four cages, where the group is introduced to the two 500 litre copper stills, 'Emily' and 'Gertrude'. They are an impressive pair of exotic ladies, operated on a bain-marie system, which produce the alcohol, once known as 'Mother's Ruin'.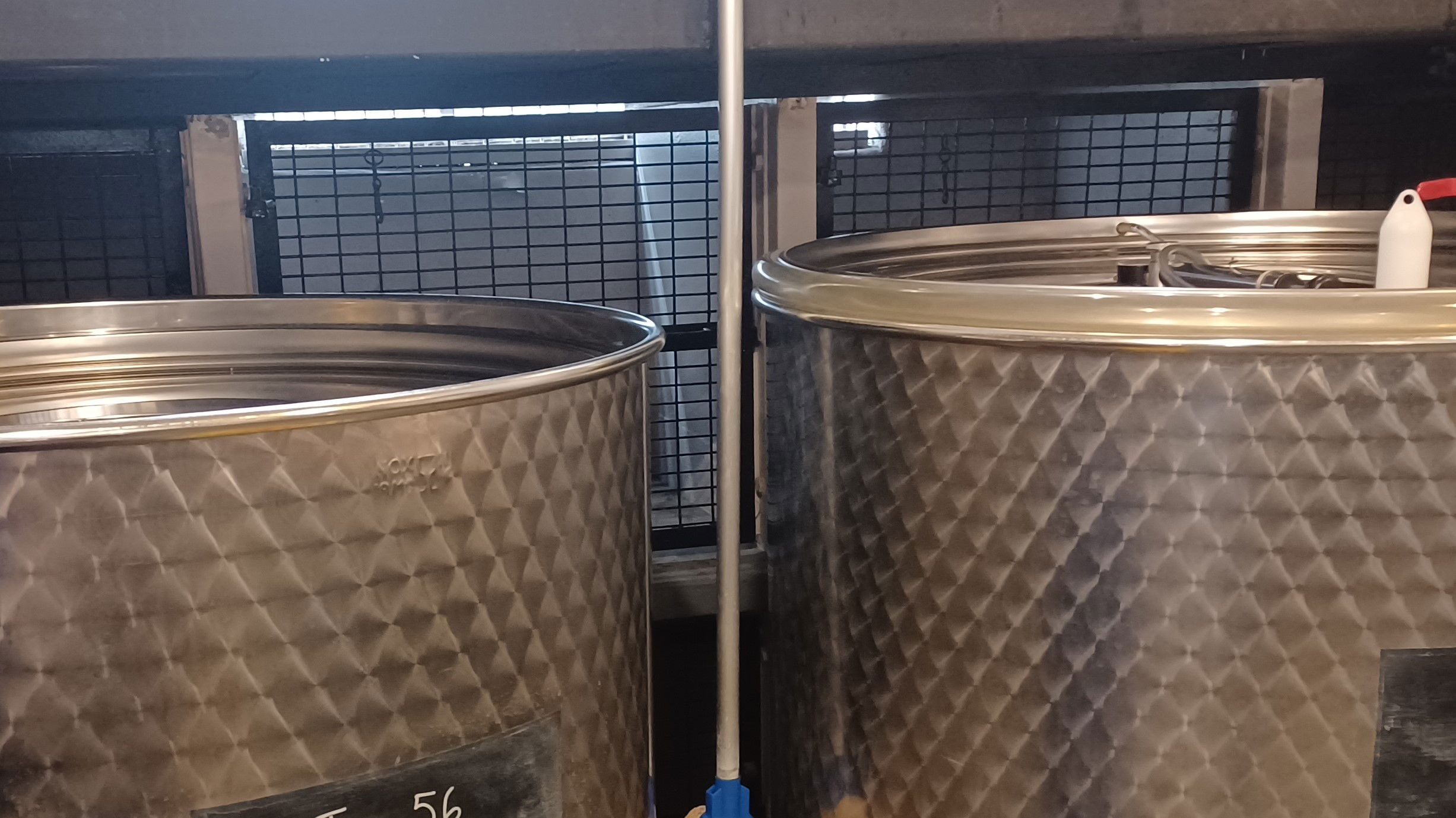 The Original Kennels can be seen behind the metal cylinders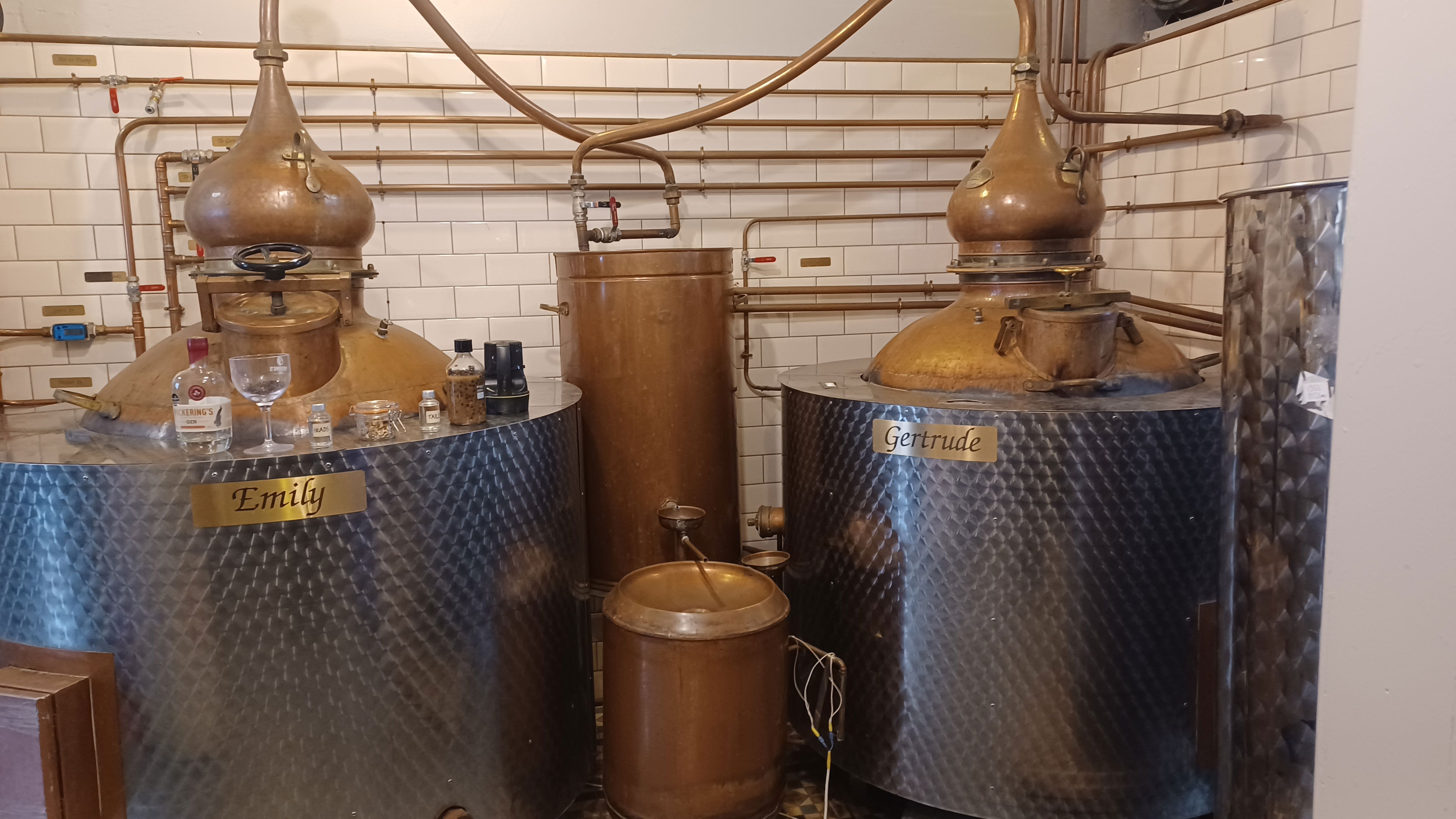 Emily and Gertrude - The Grand Dames of Distilling at Pickering's
Pickering's Gin was started by two friends and colleagues, who were utilising their engineering, furniture restoration and property development skills on renovations at Summerhall. They came across the derelict dog kennels and wondered what to do with it. Co-incidentally, one of the friends, Marcus Pickering, had recently inherited a gin recipe originating from Bombay, India, and dates from 17 July 1947. The two events collided and the idea of two gin lovers, building their own distillery, was born. Marcus Pickering and Matt Gammell are keen inventors and innovators, who learned the gin making process and adapted the original recipe to create smoother gins, favoured by today's consumers.
Marina shows us the original handwritten recipe on the wall and explains that 9 botanicals are used to make up the gin now produced by the distillery, juniper, coriander, cardamom, angelica (cinnamon in their 1947 version), fennel, anise, lemon, lime and cloves. She is quick to add, however, that there are some secrets in the recipe, to ensure no-one can replicate it.
It's the size of the still that defines whether it is a 'small batch' distillery. The term became popularly used in 2009 when the Gin Act 1751 was repealed. This legislation had outlawed small batch distilleries in the London area due to the Gin Craze which in turn led to gin being described as Mothers' Ruin. In the 1700s a very cheap version of gin became widely available which encouraged the poor to drink it in large quantities. Women were particularly fond of the spirit and this, it was decided, caused them to neglect their children. The cheap gin was also blamed for the rise in crime in London and this was likely to be because the methods of distilling were not advanced and it contained methanol, a toxic form of alcohol now used for industrial purposes, instead of ethanol which is used today for alcoholic beverages. At the time, gin production was unlicensed, and so the Sale of Spirits Act 1750, otherwise known as the Gin Act 1751, meant that Gin distillers could no longer sell to unlicensed merchants. Fees charged to merchants were increased and small gin shops of the time were eliminated. This meant that only large distillers could produce and sell gin in the UK.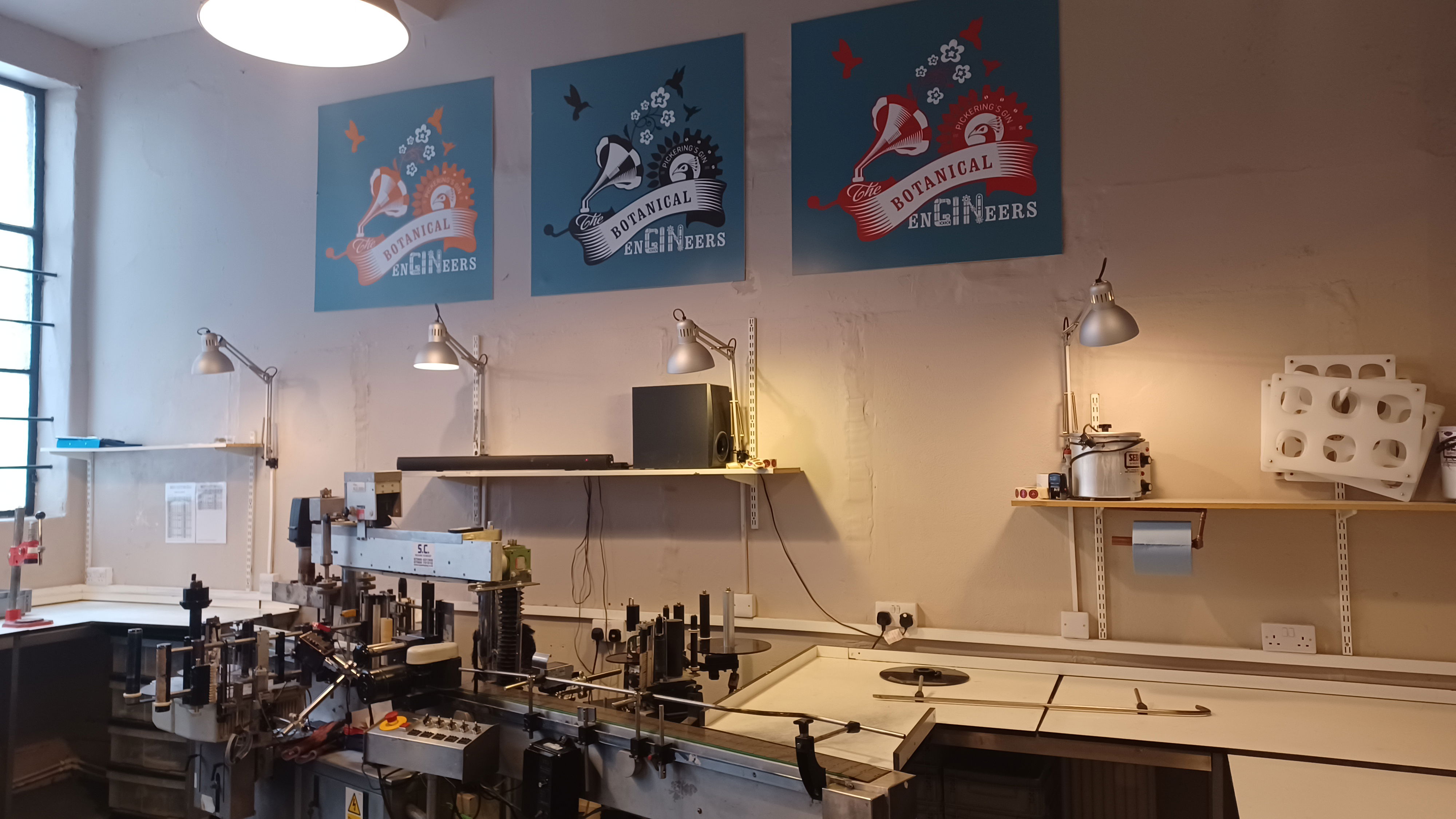 Where the Magic Happens - New Gins Developed
Back to today, Marina introduces us to one of the founders' first inventions, Mabel the Labeller. Pickering's Gins have an unusual bespoke design, a curved edge square, which doesn't lend itself well to traditional labelling. In their own words, it was a 'bugger to wrap a label around and, true to their own motto, 'if you can't find it, make it yourself', the partners developed Mabel to produce labels for their unique bottles. Whilst Mabel was only due to be used for the first batch, she survived to label 100,000 bottles before being retired in 2016.
The technical and historical stories related, the best bit is to come, as the group eagerly follows Marina to the company's boardroom where the table is resplendent with a cornucopia of delights, including three miniature (two measure) bottles of a triad of gins, cocktail ingredients and shakers, garnishes and a mouth-watering cheeseboard for each person, on which locally sourced cheeses are laid out for pairing with the cocktails we are about to make.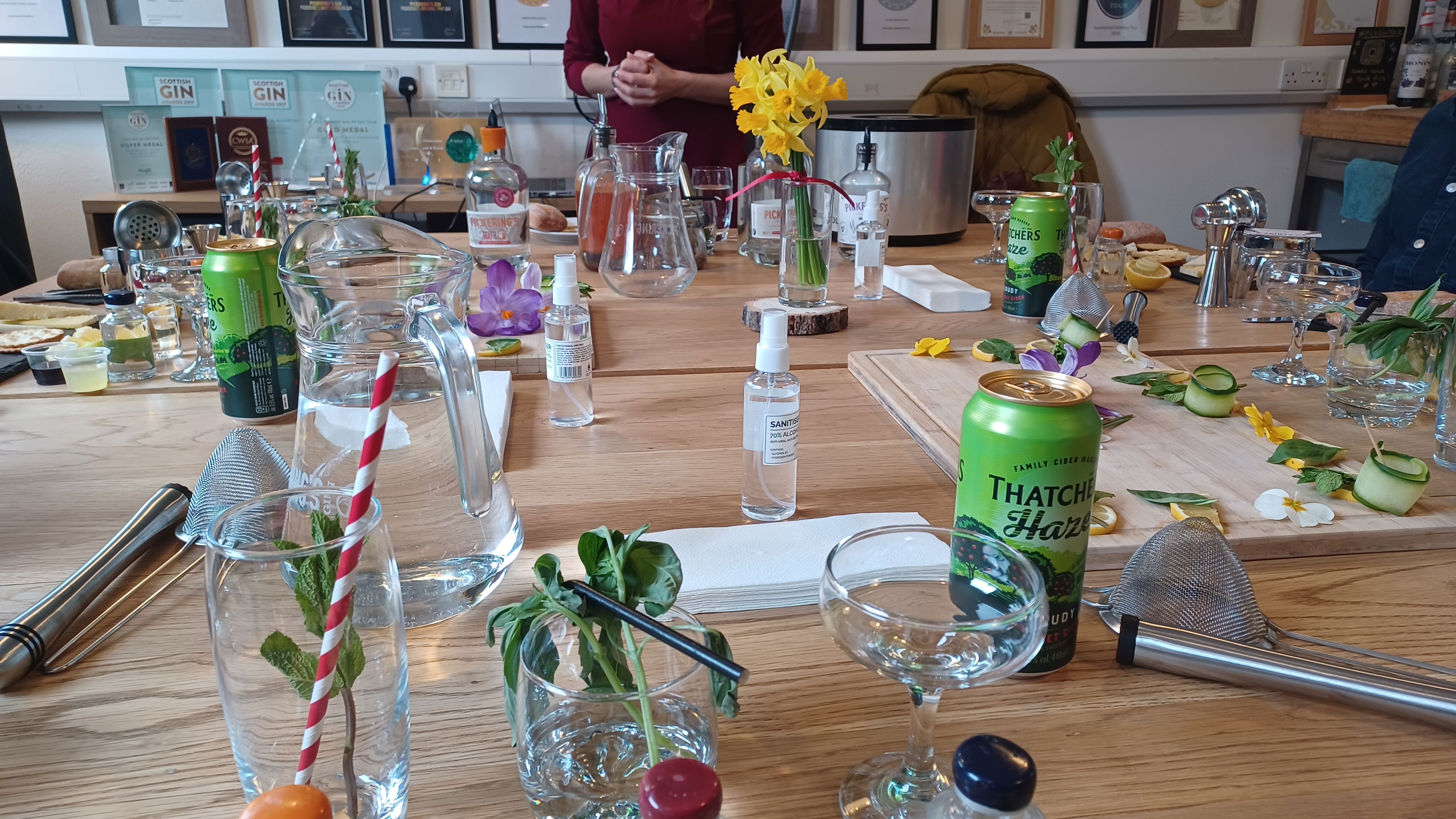 Pickering's Boardroom Table, Resplendent With Gins, Cheeses and Cocktail Garnishes
The group is definitely warming up by this time and I jokingly comment that I think we're all going to be really good friends by the end of the tour, after three double-gin cocktails which includes, for one of them, a tin of cloudy cider as a mixer.
Today, Marina is launching her new Spring recipes. First is The Indian Garden with Pickering's 1947 Gin. She leads us through the process of making our cocktails which the group embraces enthusiastically. We produce a spicy, citrussy, apple-cider infused drink, artistically garnished with a ribbon of cucumber. We are then left to enjoy the flavours, alongside the delicious cheeses selected from makers in Anstruther (pronounced Ainster) and Lanark. It's a great start to the session, and as the warmth of the gin flows in our veins, the air of conviviality increases. During the tasting, we discover that two of Marina's friends are in the group, having travelled from Switzerland, and there is lots of banter between us all.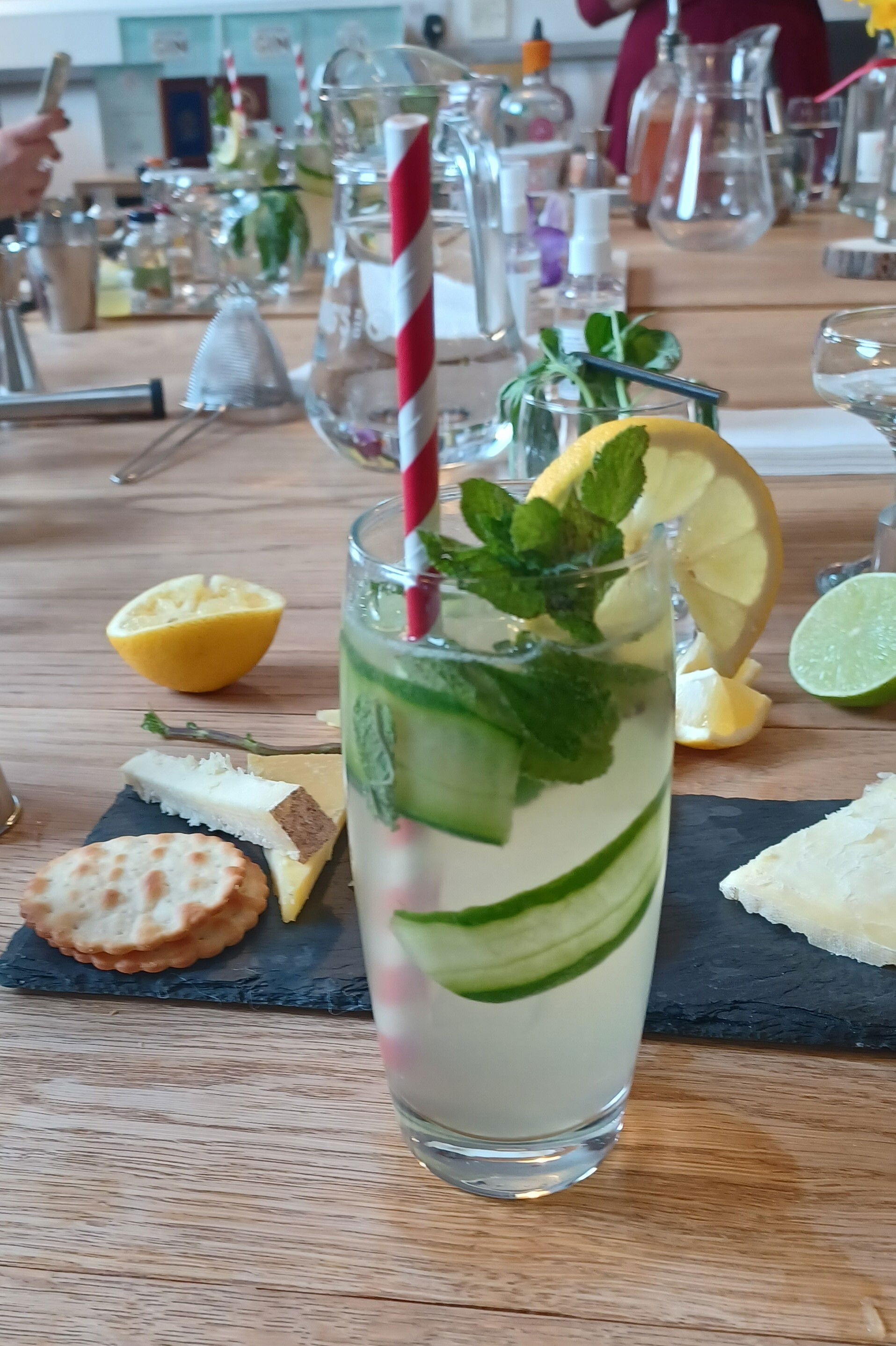 The Indian Garden Cocktail, Made with Pickering's 1947 Gin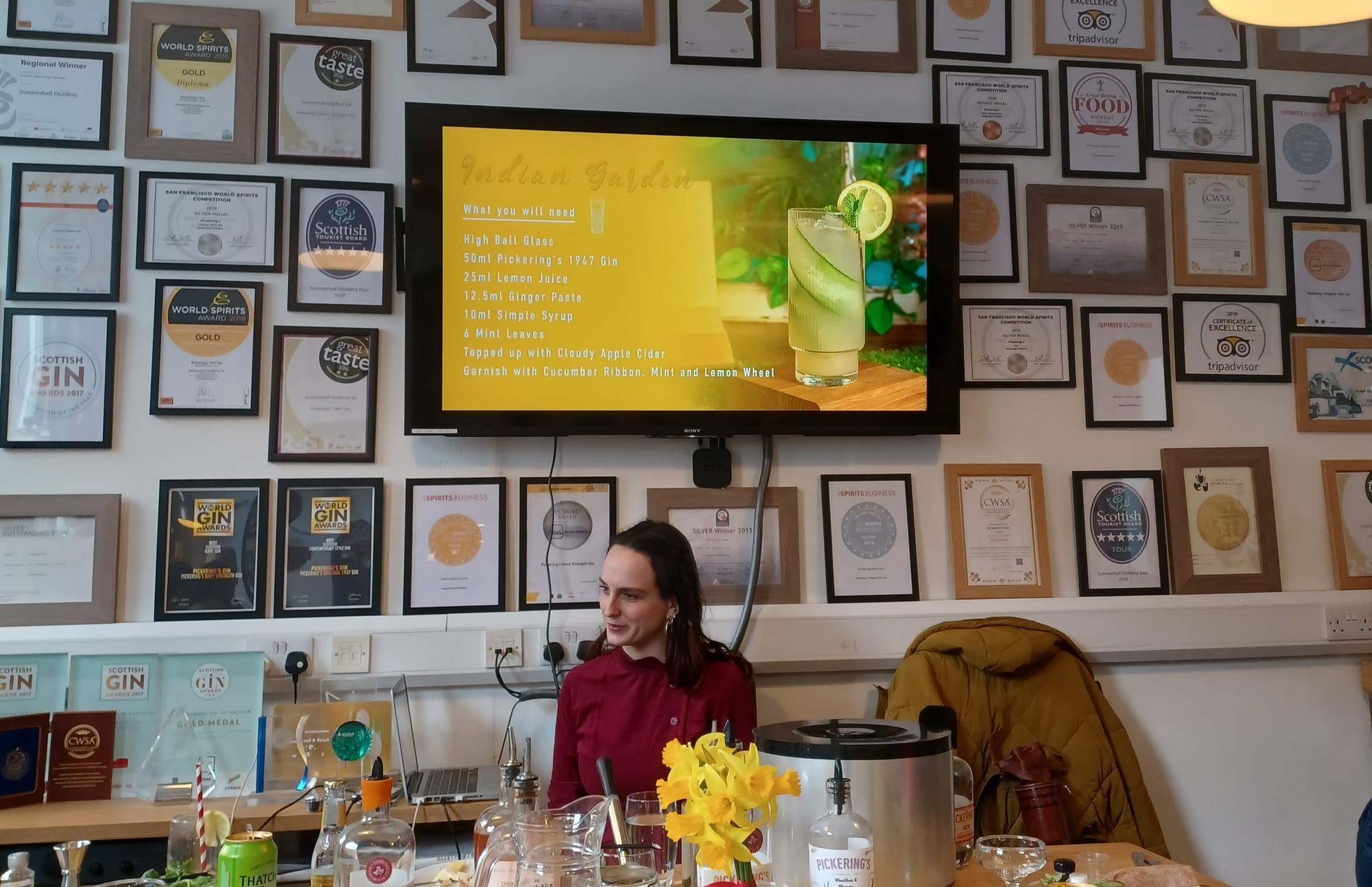 The Indian Garden Recipe on Screen
Next up is the Basil Smash, using Pickering's Gin with Scottish Botanicals. This one is quite sharp and herby, but again, delicious alongside the next two paired cheeses and Focaccia bread.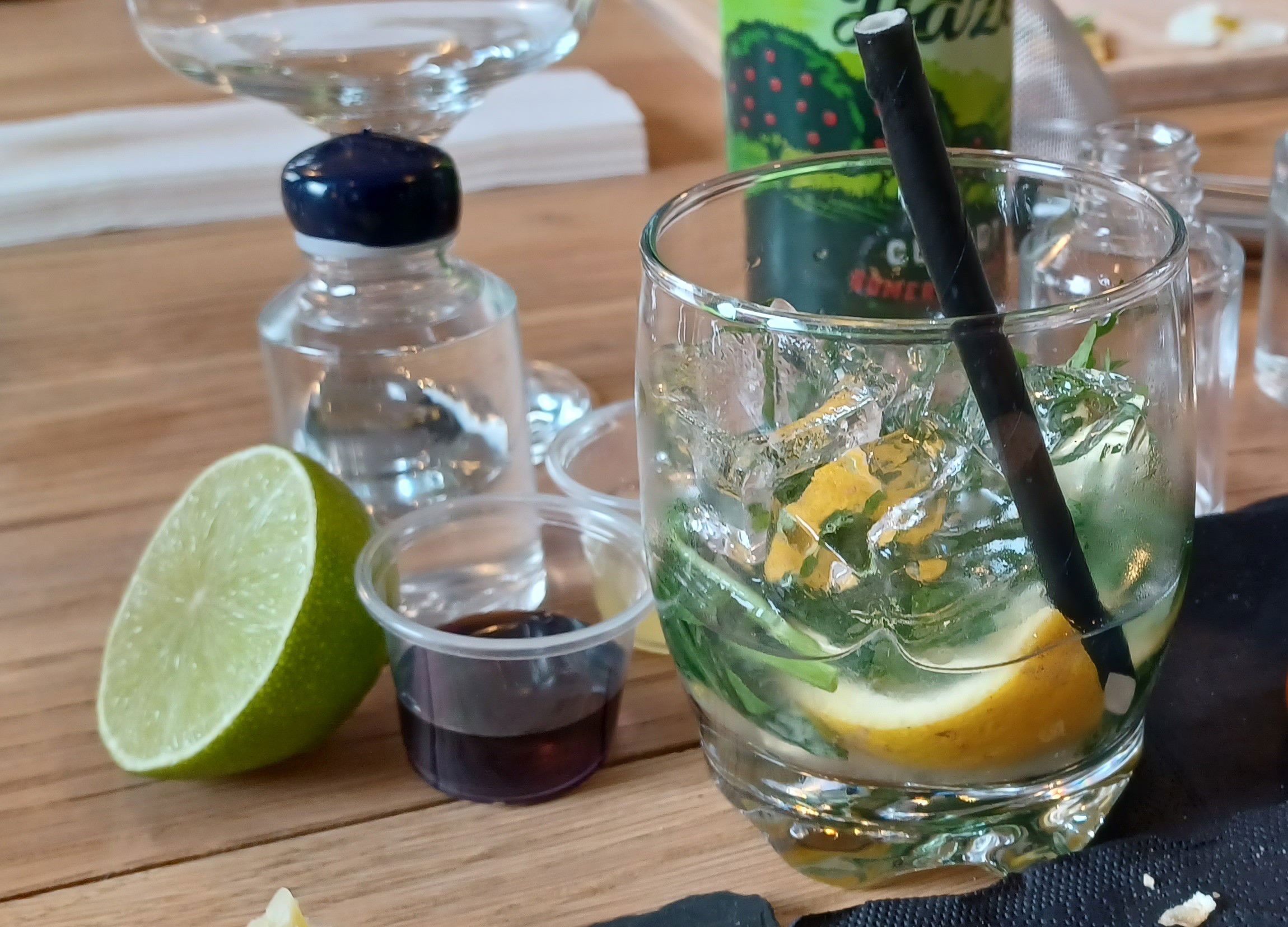 The Basil Smash
Finally, it is the Lady Pickering cocktail, made up of Pickering's Heather and Honey Gin. It includes an infusion of violet syrup and frothy egg white, to make a mildly Parma Violet flavour. It's subtle, however, and not too overpowering in the violet flavour, which isn't everyone's cup of tea (or glass of gin).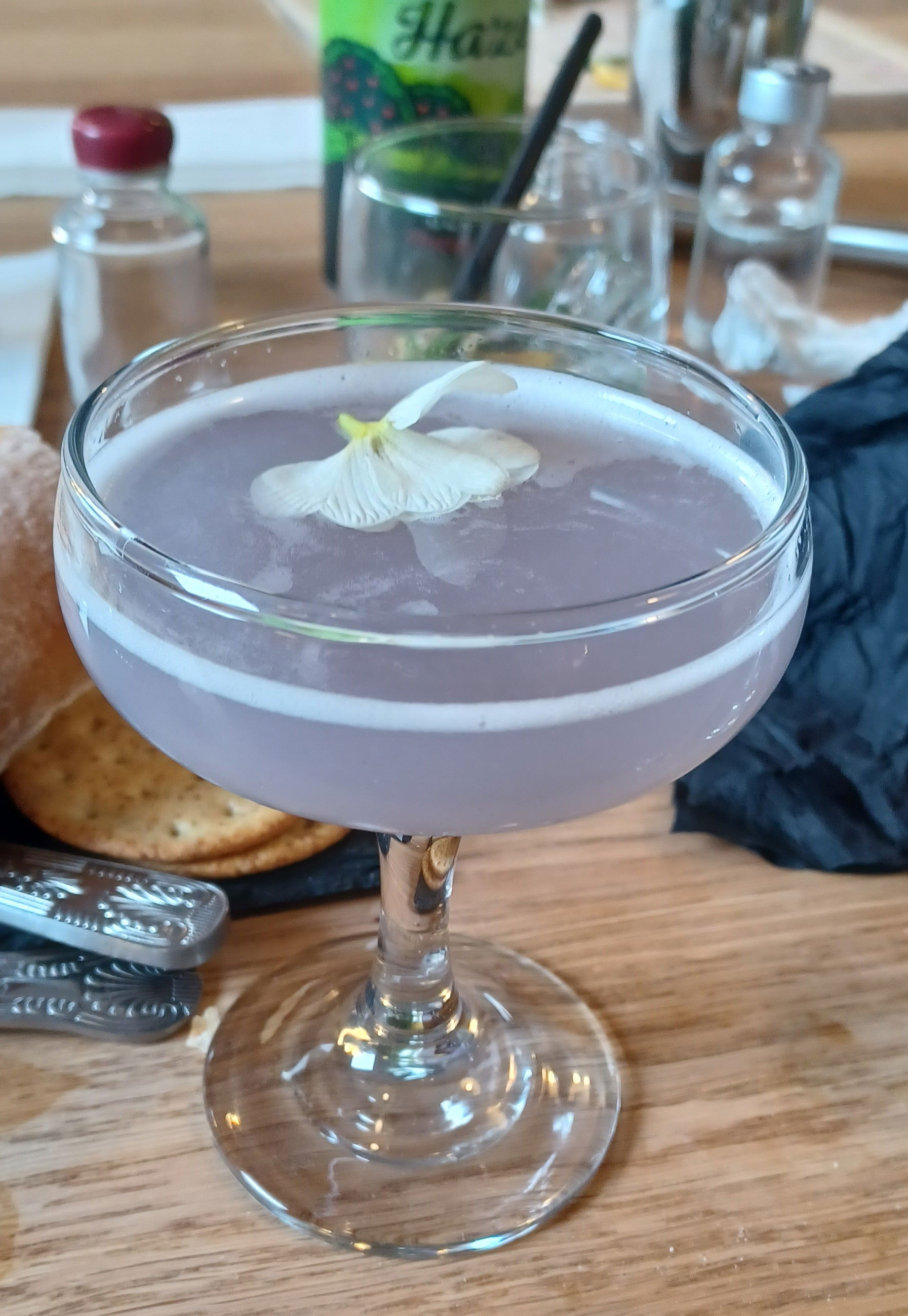 The Lady Pickering
By now, the group, made up of French/Swiss, Latvian, Swedish, Glaswegian and Dunfermline attendees is fairly raucous, much as I predicted, throwing jokes around like old friends with infectious laughter and bonhomie. By the end of the session, we've been speaking a smattering of French, toasting in several different languages and we even received an invitation from one of the ladies from Switzerland to stay with her, should we ever find ourselves in the country.
Finally, we amble off to the shop, where of course, we joyously purchase bottles of the magic juice to make our own cocktails at home. Not yet ready to leave and end the day, what could be better than another couple of gins in the Dick Bar, where, lo and behold. we find the other members of the group shoring up the bar.
The tour was a lot of fun, and the stories colourfully told by our host, Marina, whose great sense of humour and talent for entertaining, brought the Pickering's story to life. She clearly loves her work, although warns that for some, who enjoy a taste for delicious gins, working there can lead to downfall! A cautionary tale at the end of a great Bacchanalian experience. This was by far my favourite of the distillery tours I've been on and well worth it for those who enjoy a glass of 'Mother's Ruin.