Some visitors to the Royal Burgh of Falkland in Fife might be forgiven for believing they had just walked into 18th century, or even post WWII Inverness. They may be disappointed to find that 'Nessie,' however, resides some distance away from here, and that they are, in fact, nowhere near the Highlands. Why? Because as fans of blockbuster series 'Outlander' know, the opening scenes of time travelling Claire Randall are set in 1945 Inverness, but the actual filming location is the quaint and ancient Royal Burgh of Falkland. The fictional Craig na Dun stones are set on a hillside overlooking the town of Inverness, through which Claire mysteriously travels to meet her Jacobite husband, Jamie Fraser, in 1743. Falkland nestles picturesquely beneath East Lomond Hill and is graced by Falkland Palace and Gardens, a favourite royal residence of the Stuarts and inspired by the grand chateaux of France.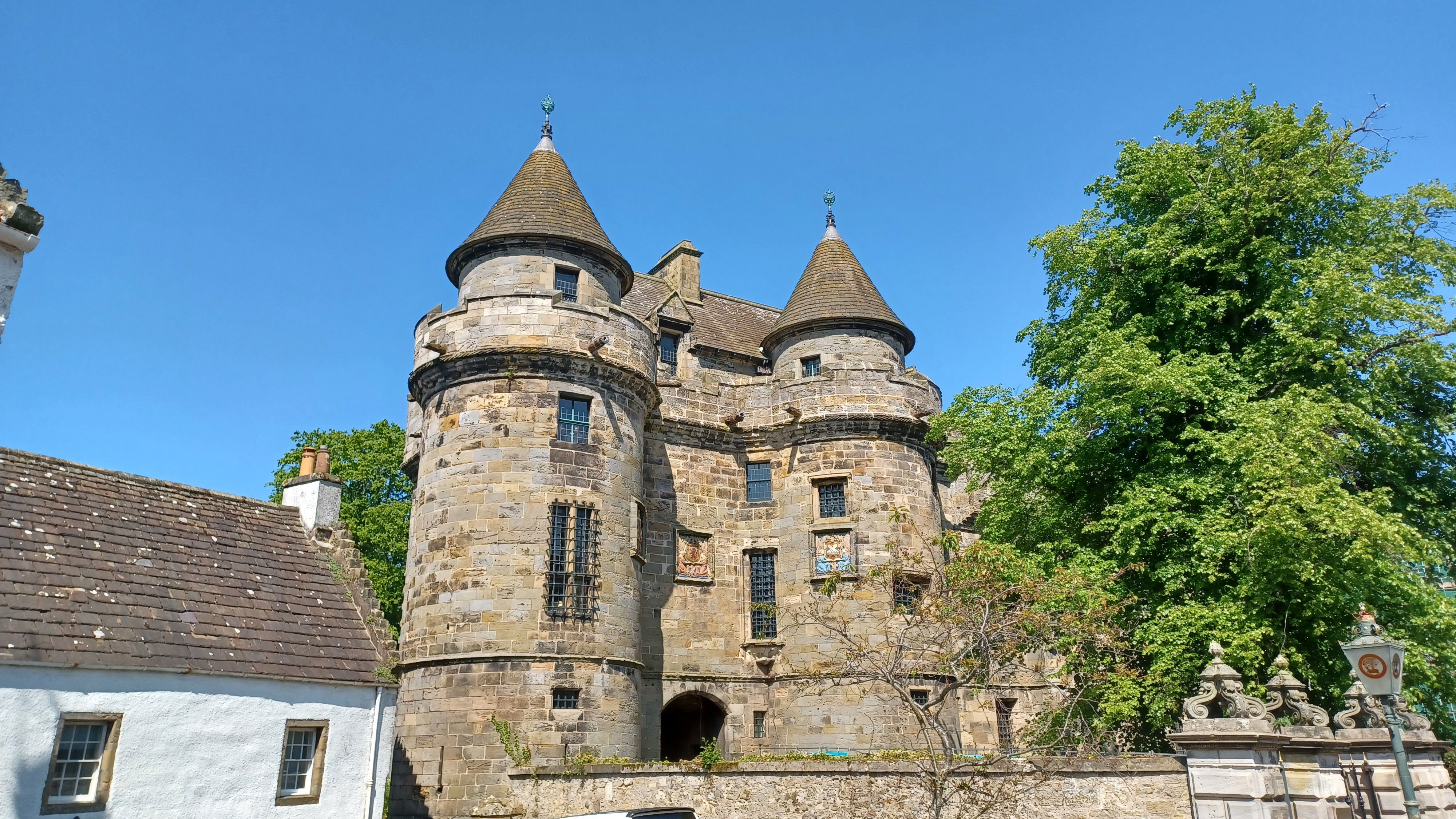 Falkland Palace, home of Claire Fraser's Apothecary
What must it be like for the residents, when their quiet, historic town is transformed into a movie set, one wonders? Dr Peter Burman, Chair of the Falkland Society, arrived in the town in 2015 and almost immediately began his own journey back in time. Shortly after moving into his Category A listed home he says, "Almost the first thing that happened to me was someone knocking on the door asking if I would allow the front of our house and entrance hall to be used in the next film-making session. A fee was mentioned, the filming happened and was no bother - just a little bit inconvenient but no matter - and for a working week I enjoyed the clip-clopping of horses' hooves." While he was keen to point out to the crew the listed status of the house — the same as Falkland Palace — no damage was caused, as the town was transformed with classic cars and costumes of the 1940s and scenes depicting the 18th century.
Peter isn't the only one in Falkland whose property took on a starring role in this Outlander location. Indeed, from the opening scenes in Series 1, we encounter the 'ghost' of Jamie Fraser standing next to the Bruce Fountain, in full Jacobite attire, staring at the 20th century Claire, in the window of Mrs Baird's B&B. In reality, Mrs Baird's is The Covenanter Hotel. Today, the visitor can enjoy its coffee shop, with freshly made cakes or a hearty meal in the bar/restaurant. They can even stay in the very room overlooking the fountain where Jamie stares longingly at Claire.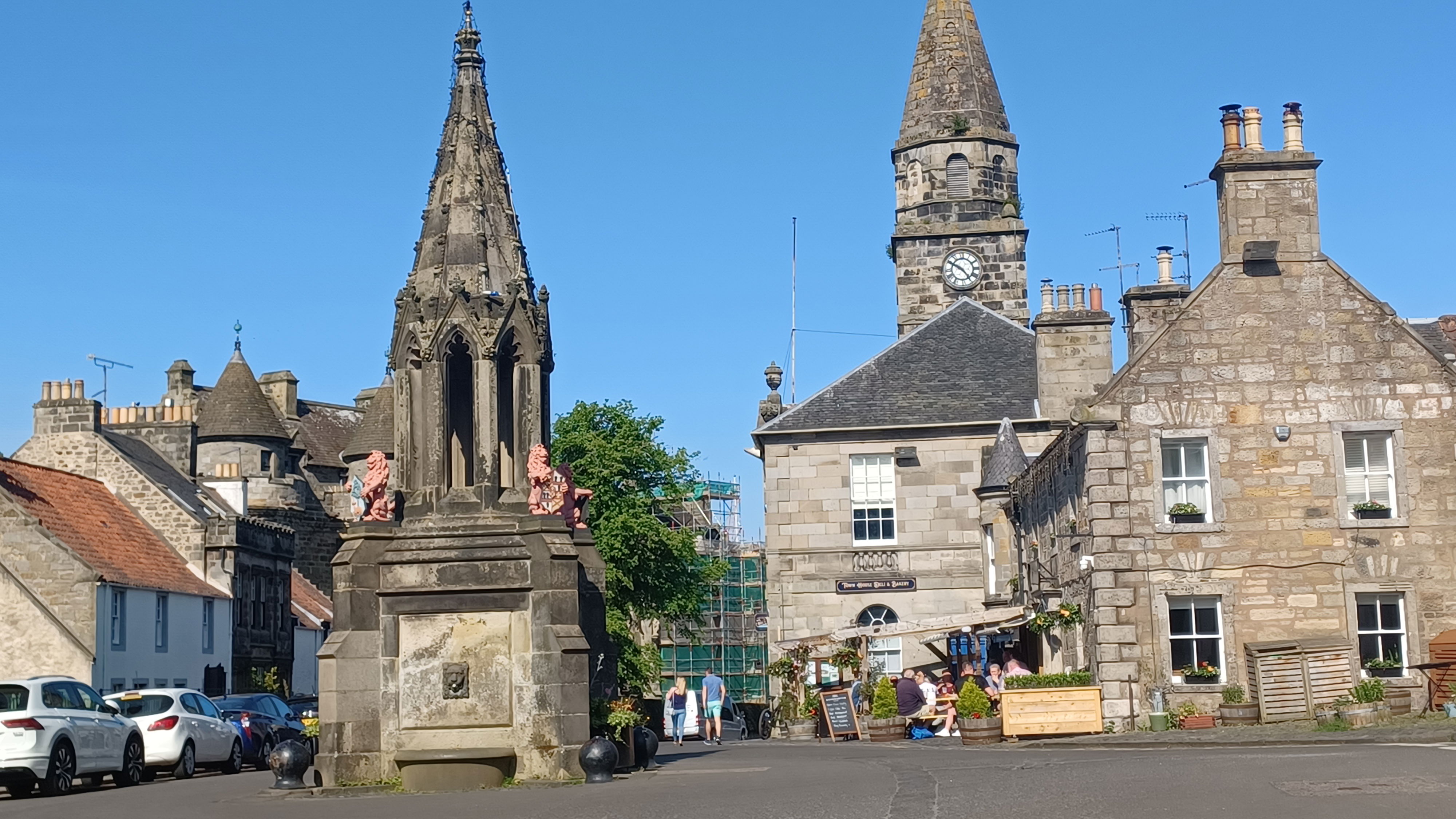 Bruce Fountain where Jamie's 'Ghost' watches Claire in 'Mrs Baird's' Guest House
Views of The Covenanter Hotel, filming location for 'Mrs Baird's Guest House.'
Nearby is Fayre Earth Gift Shop, which became Farrell's, a home furnishing store in Outlander. Claire is reunited with her husband after WWII and they are on their second honeymoon. Here, she stares wistfully in Farrell's shop window at a blue vase. In her voiceover, she wonders how her life would have turned out had she simply purchased it and settle in married bliss with Frank Randall.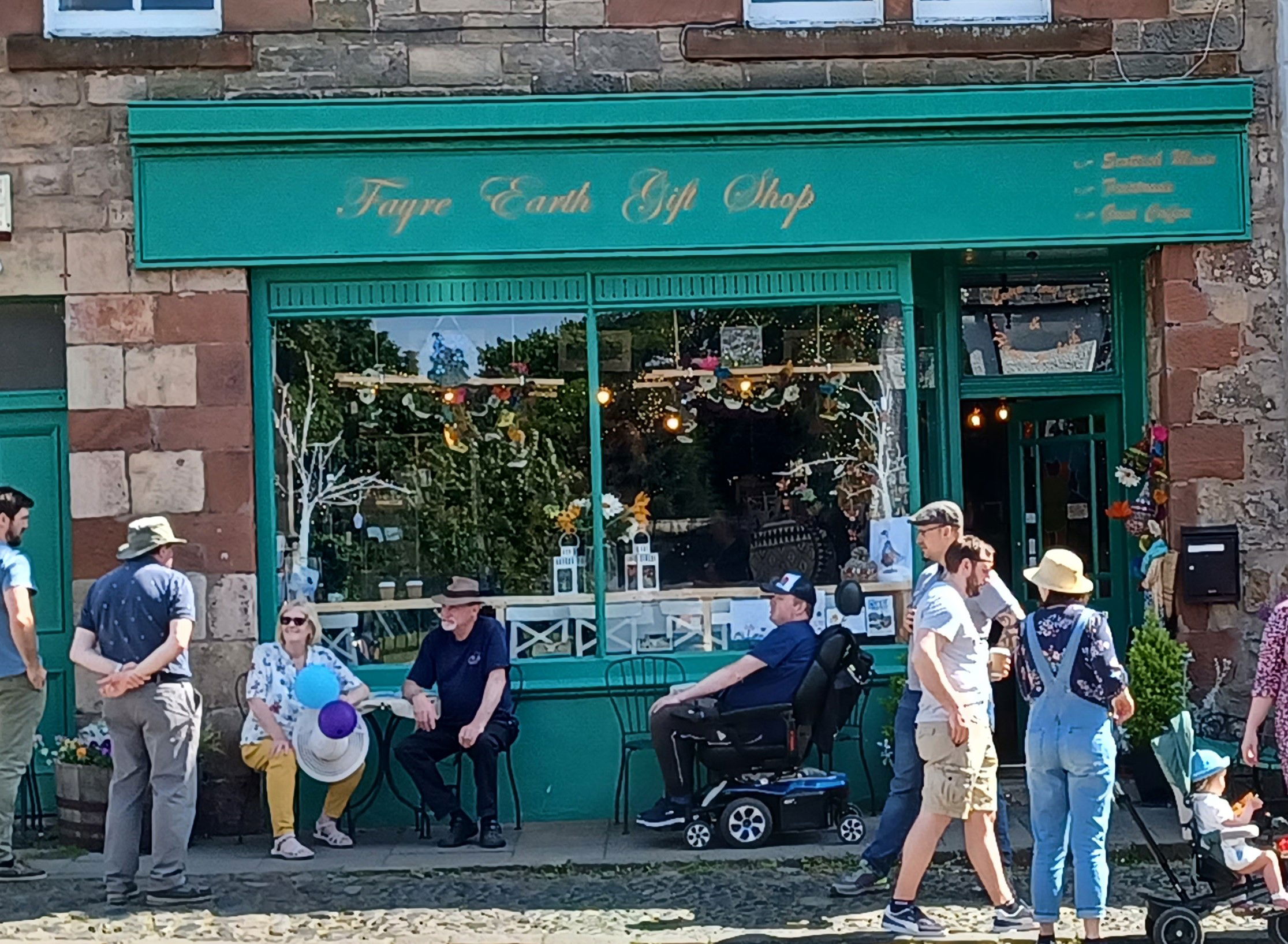 Fayre Earth Gift Shop, home of 'Farrell's' where Claire Randall gazes at the blue and white vase
Falkland Palace is a delightful location in its own right, with rooms decked out for kings and queens of old. Paintings of former residents overlook the drawing room, including, famously, Mary Queen of Scots and James VI of Scotland and I of England. The Chapel Royal contains original 16th and 17th details, with a stunning painted ceiling, stained glass windows and ornate panelled woodwork.
For the Outlander fan, there is the purpose-built Apothecary, where Claire encounters Mary Hawkins, seeking medicine for Alex Randall, brother of 'Black' Jack Randall. Here you can see examples of early medical equipment and ingredients for medical potions, together with recipes for herbal remedies. Claire, who served as a nurse during WWII, uses her medical knowledge to help the sick and injured of Jacobite times and finds herself condemned for witchcraft.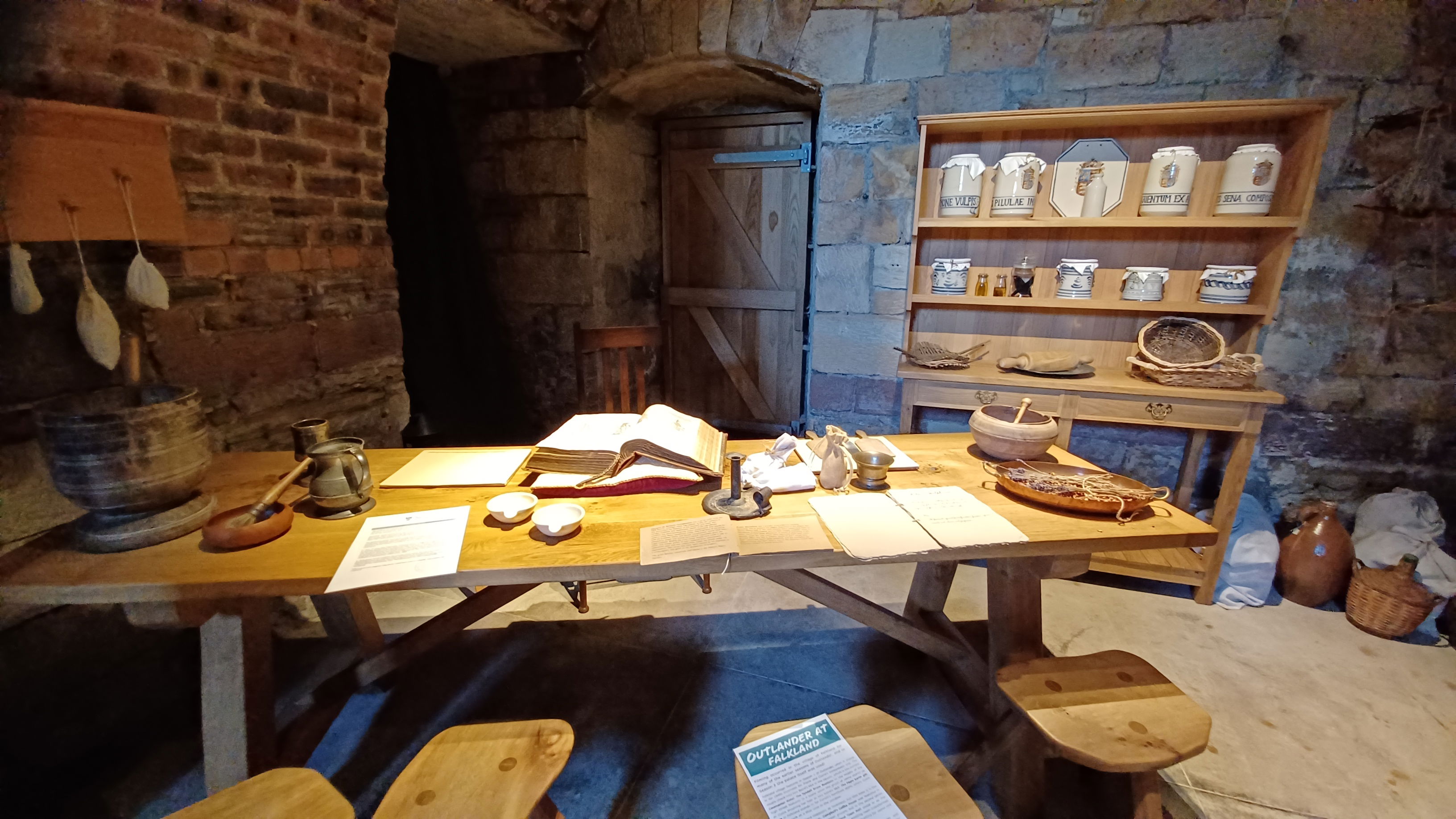 Claire Fraser's Apothecary, purpose built for the Outlander series within Falkland Palace
Thirty-five miles south-east of Falkland is another Outlander location, the Fife town of Culross (pronounced Coo-russ), the epitome of a 17/18th century burgh, replete with cobbled streets, quaint ancient buildings and of course, the stand-out ochre coloured palace, where you can see Claire's Castle Leoch herb garden.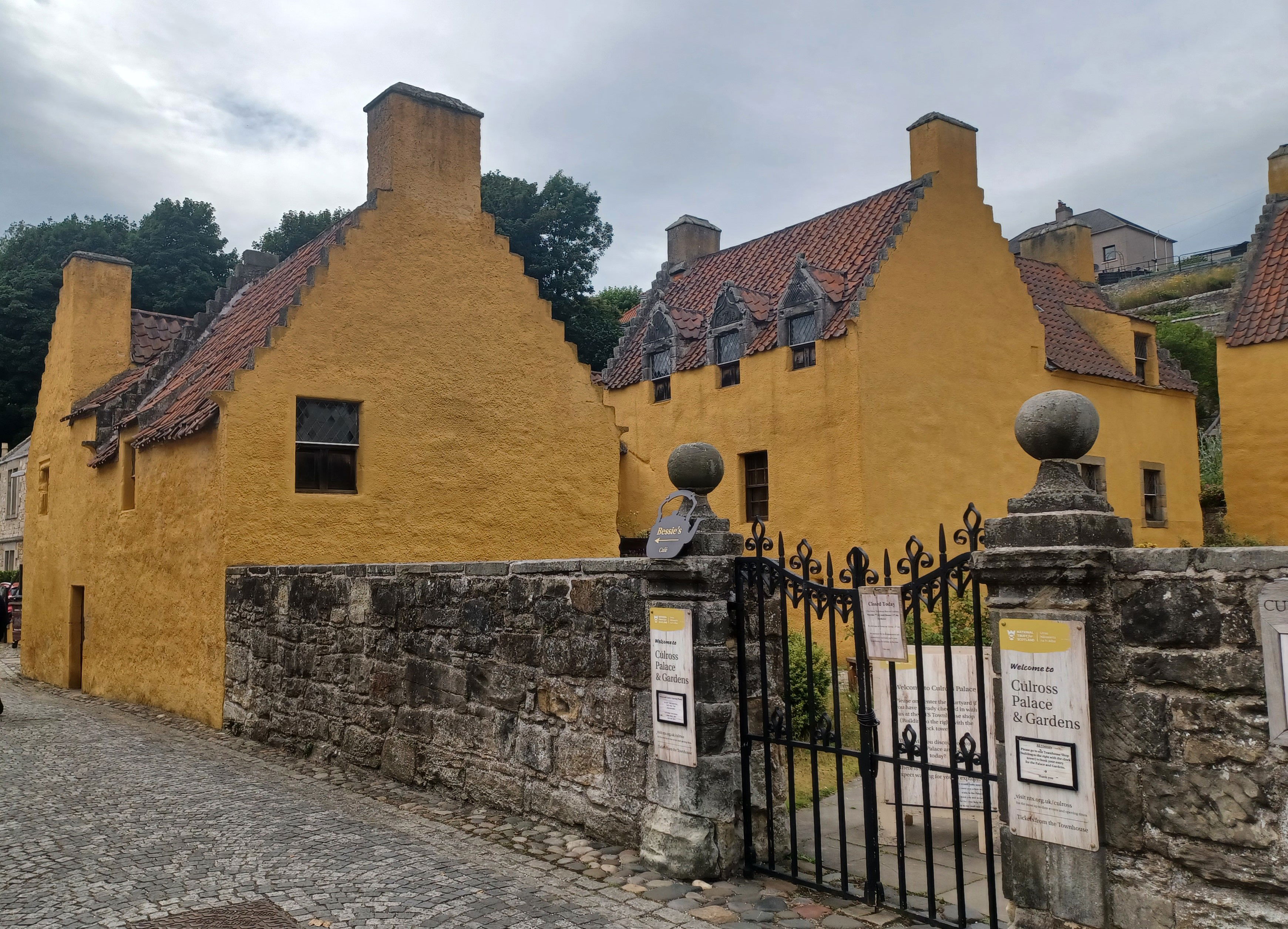 Culross Palace, site of Claire's Castle Leoch herb garden
Culross becomes the fictional village of Cranesmuir in Outlander and was frequently used as a series location. Taking a walk around the town, fans will find Geillis Duncan's house, known as 'The Study,' where Claire is summoned on false pretences and the pair are arrested for witchcraft. The building is adjacent to the Mercat Cross, which features frequently, but most gruesomely as the site of the pyre, where Claire and Geillis are to be burned for their sorcery.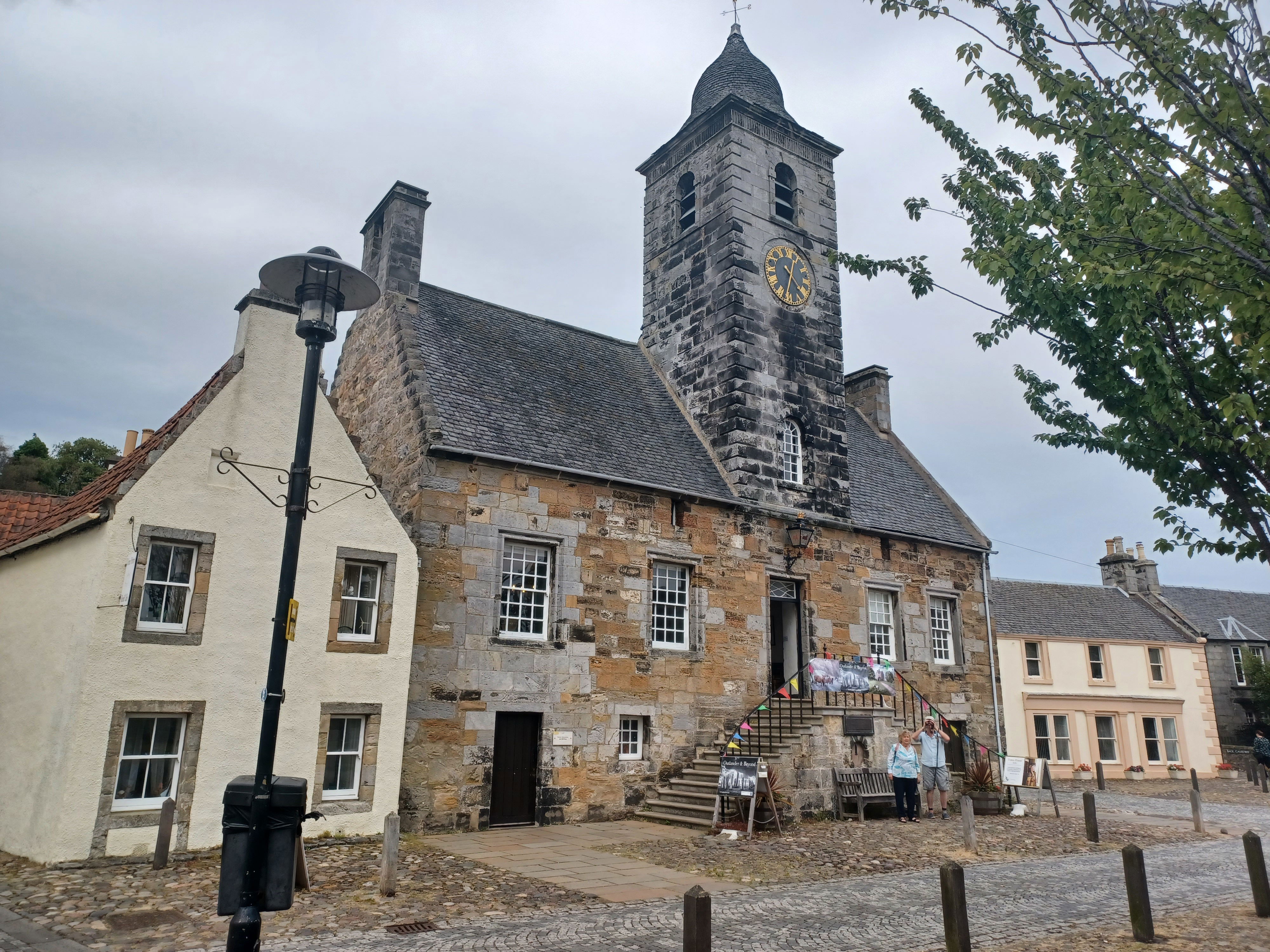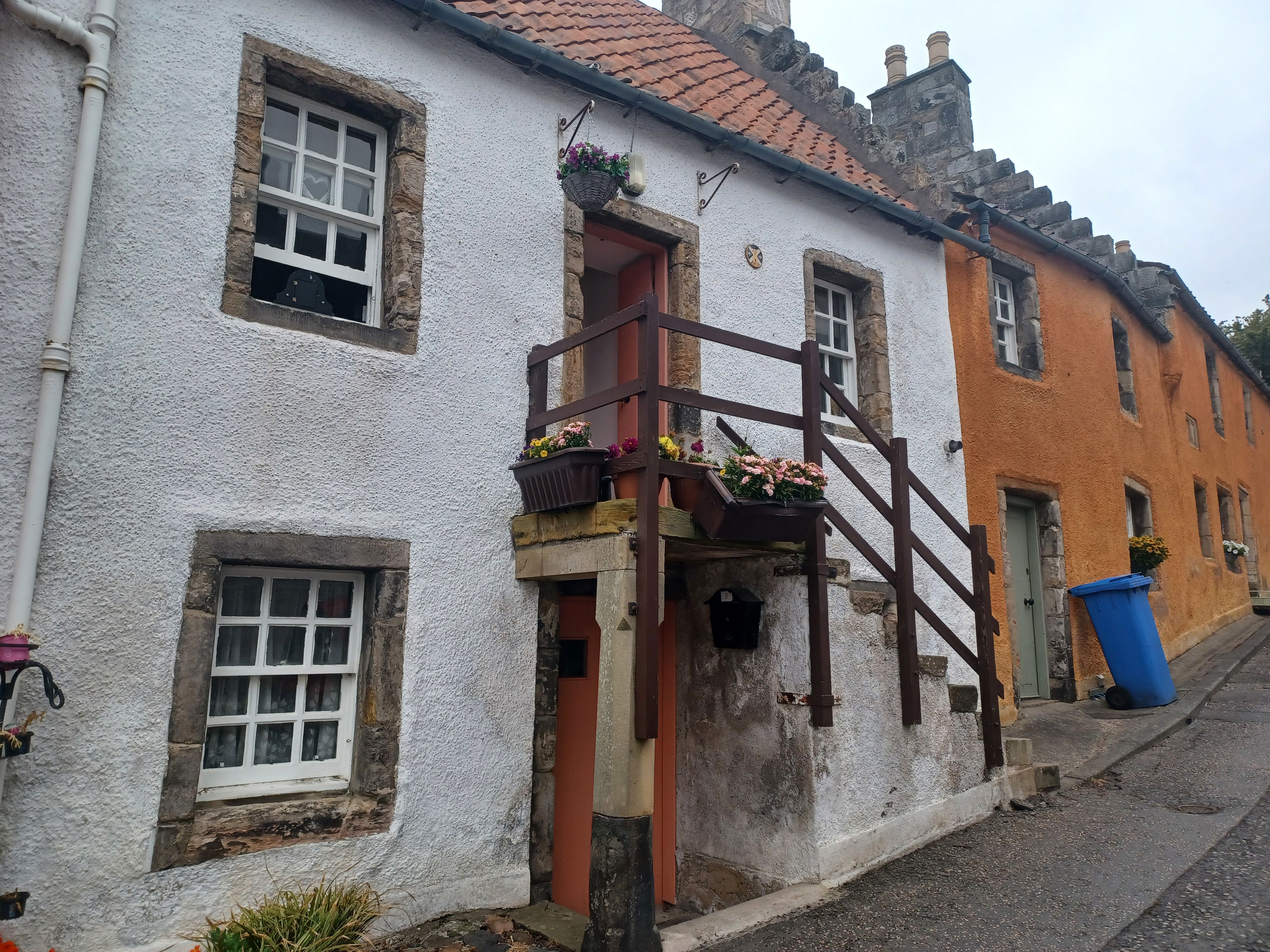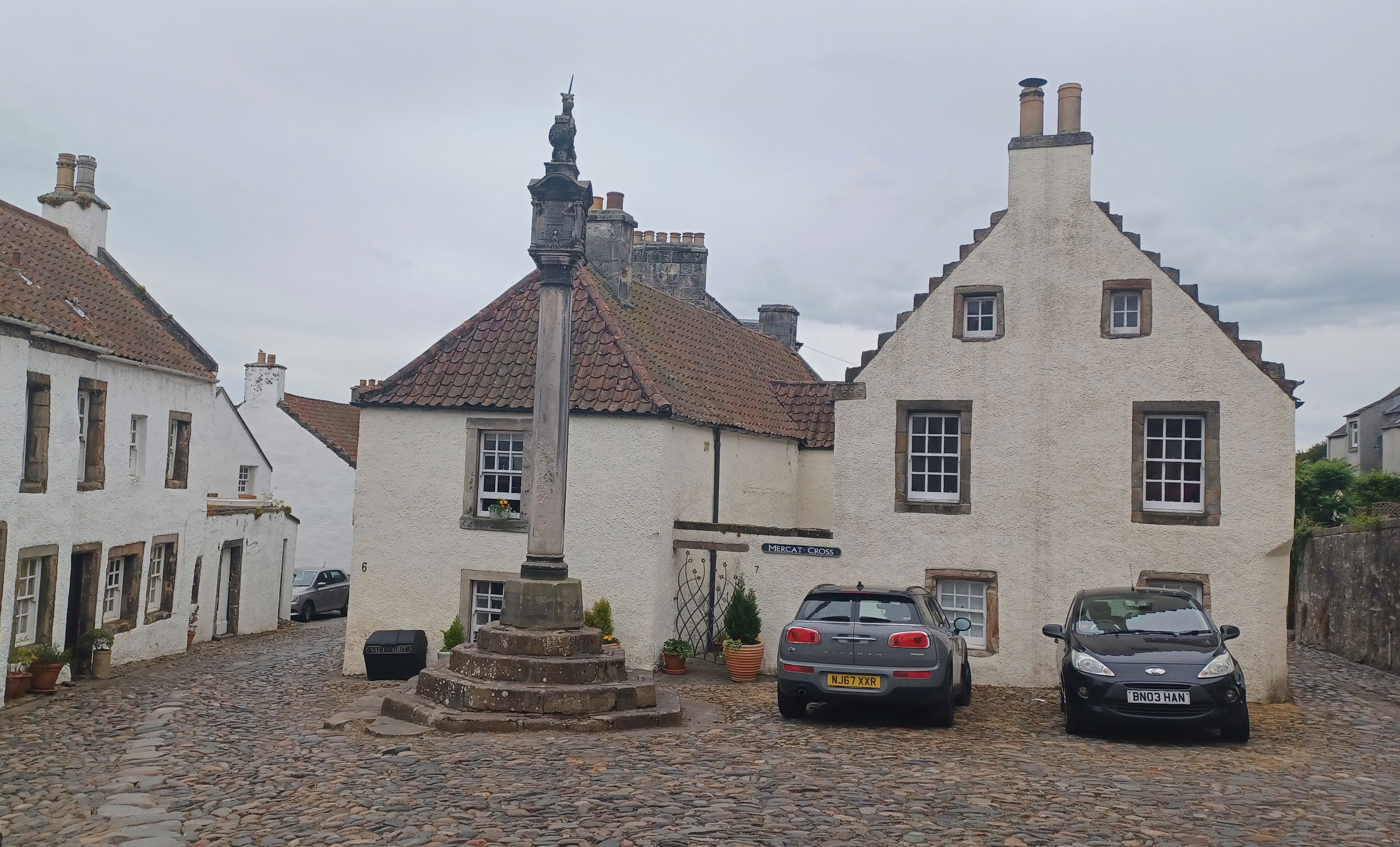 Views of Culross and the Mercat Cross, the site of the witches' pyre
As if Falkland and Culross aren't enough for Outlander fans to visit in Fife, there is also Aberdour Castle and Gardens, situated in another picturesque village between Dunfermline and Kirkcaldy. The castle is the oldest standing stone-built castle in Scotland, with buildings dating between 12th and 17th centuries and was the location of the French monastery, where nuns nursed Jamie Fraser to health, and the kitchens and long gallery were featured.
The much-anticipated first part of the new series seven of 'Outlander' has now aired, with viewers once more gripped by the passionate and turbulent love affair, over two timespans, of Jamie and Claire Fraser. Undoubtedly, the once quiet ancient towns of Fife, will be alive again, with visitors eager to transcend time and place to experience the romance and mystery of Outlander.